Performance
The Slide Heard 'Round the World!
Introduction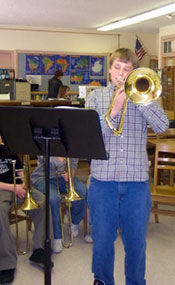 "Relax your wrist a bit and try it again." The young trombone student played the section again. His movement was easier, his sound fuller. He beamed at his teacher in surprise and delight. In the magic of the moment it didn't matter that he was in Rhode Island and his teacher was in Texas. James, an eighth-grade trombonist performing from his Rhode Island's school's library/media center, and Jeff Freeman, graduate trombonist at the University of Texas at Austin, had connected in more ways than one.
This scene happened during the first Slide Heard Round the World!. In this article, I will explain what The Slide is and share a bit about its intent and history.
The Slide Heard Round the World! celebrates International Trombone Week (ITW) with events that include masterclasses, solo recitals, ensemble performances, and lecture/demonstrations. The unusual part is that all Slide events are held virtually, using the Internet and Internet2 (I2).
The Slide started in the spring of 2003 when Wheaton College established a connection to I2. Wheaton's new I2 connection made possible a number of interesting applications for the campus, including high-quality videoconferencing for teaching and learning. As a trombonist and Wheaton technologist, I thought honoring the trombone and connecting its community would be a wonderful way to celebrate the convergence of both events!
Highlights from our 2003 Events
The Slide's debut included the first-ever trombone masterclass conducted over I2. The session brought together middle school and professional trombonists who interacted with one another from I2-connected sites in different states. I marked the moment and paid tribute to our Ocean State (RI) participants by introducing the masterclass with celebratory blasts from a conch shell. We moved on to a session that incorporated such trombone staples as tuning notes (Bb, of course!); warm-up routines; etudes, exercises or other pieces; expert coaching and give-and-take. Matt McGarrell and David Schwartz led the session from Wheaton College; middle school and high school students were located at their schools in Wickford, West Warwick, and North Providence, Rhode Island; and the AustinBones were located at the University of Texas in Austin. The Rhode Island Network for Educational Technology (RINET, North Kingstown, RI) acted as a hub for the connecting schools.
Highlights from our 2004 Events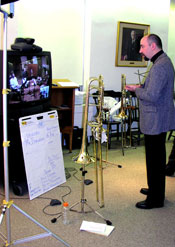 The 2nd annual Slide Heard Round the World! was held on April 5-9, 2004. More than two hundred people were involved that week including a trombone choir concert on Sunday; two masterclasses on Tuesday; a trombone recital on Wednesday; and a clinic on modern trombone design with Steve Shires on Thursday. Participants hailed from Massachusetts, Rhode Island, New York, Pennsylvania, North Carolina, Mississippi, Kansas and Texas.
What will 2005 bring?
Many people have inquired about participating this year, including old and new Slide friends from California, Kansas, Massachusetts, Michigan, Mississippi, Nebraska, New York, Ohio, Pennsylvania, Rhode Island, and Washington, DC. There's still time to get involved! If you want to share the trombone with the world, we want to hear from you.
Much of our past video may now have found a home. The Slide's site is being updated to include links to streaming video, event photos, credits, participant comments, study materials, and resources for trombone players. Thank you to all who have waited patiently for this.
Thank you!
I extend my deep appreciation to our many collaborating organizations and talented participants who include:
Wheaton College: Tom McAuley, Steve Hess and Matt Burch
OSHEAN for Internet2 access: George Loftus, Celine Rice, and Tim Rue.
RINET (Rhode Island Network for Educational Technology) for the use of their video bridge: Pam Christman and Alice Sheerin.
ITA: Nathanial Brickens, Chris Hayes, Joshua Brown
Past Participants:
Matthew McGarrell, trombonist and Brown University music faculty. McGarrell led the first and second masterclasses and recorded three etudes to assist students who wished to study them.
David Schwartz, trombonist and transcriber of the Bordogni etude collection. Schwartz provided copies of the etudes for pre-class study and offered copies of his Volume 1 to participating schools. Schwartz also hosted the Shires clinic.
The AustinBones have been with us since the start! (Billy Gayman, Darin Cash, Jeff Freeman, and Mike Mannella from the University of Texas at Austin)
Nathaniel Brickens, ITA President
Gabe Langfur, trombonist, hosted the second year's masterclasses.
Steve Shires, master trombone builder
Trombone students at RI's Wickford Middle School, West Warwick High School, North Providence High School, Bristol-Warren Public Schools. MA's Scituate Public Schools. Their teachers and technology leaders include Denise Fredrick and Sally Tucker.
University of Rhode Island and Community Colleges of Rhode Island who accommodated trombonists from Rhode Island College. Vince Petroni and friends.
Wichita State University, KS; Russ Widener and his trombone studio.
Mississippi State University's Richard Human and Wendy Payton, piano. Dr. Human welcomed questions about his program via email and instant messaging.