Professional/Career
Reflections on the Alessi Seminar 2002 in Italy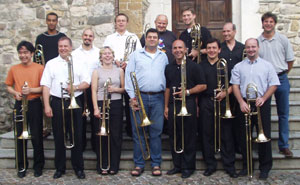 Many readers will be familiar with the seminars that Joseph Alessi has held in Nyack, N.Y. for trombonists on two occasions, with a third to happen in August 2003. I had the opportunity to take part in a European version of the event last summer in Limone, Piemonte, Italy. As an orchestral player with over 20 years behind me in my position with the Calgary (Canada) Philharmonic, I saw this seminar as an opportunity to be a student again, if only briefly, and to get out of any bad habits that might have crept into my playing over the years. I was also enthusiastic about having the chance to seriously study some solo literature, as I've developed an interest in performing more in that genre over the past few years.
The basic premise was the same as previous seminars - applicants made a recording of a specific list of solo and orchestral material, which was submitted, to Mr. Alessi for his approval. Nine tenors and three bass trombonists were chosen to take part, and then everyone made their travel plans. There was a second seminar held later in the summer that was designed for intermediate players. We had a wonderful group of talented players who came from all over the world - Italy, Germany, Portugal, Norway, Japan, Hong Kong, Sweden, Brazil, and Canada. We also covered a wide range of ages - from about 20 to 50.
Limone is a small mountain resort town in the Alps, very close to the French border. I chose to travel through Nice, France while some others used Turin, Italy or in a few cases Milan. The town has a wonderful "Old World Italy" feel - narrow cobblestone streets, with some buildings dating back to the 13th Century. Our hotel was a small, but charming family-run place, with a little room for breakfast in the mornings. Lunch and dinner were at a wonderful restaurant down the street, with great local delicacies and generous (maybe too generous!) portions.
The schedule differed from previous seminars, as this event was put together by a couple of hard-working Italian trombonists - Andrea Conti, who plays with the Bavarian Opera in Munich, and Gianpiero Brignone, the trombone professor in nearby Fossano, Italy. They arranged an event that had more individual masterclass time for each participant than the Nyack seminars. Days usually started around 9:00 or 9:30 with a group warm-up. Then there would be three masterclasses each dedicated to one performer from 10:00 to 1:00, with short breaks between. Lunch was at 1:00 with about another hour to practice, etc. and two longer masterclasses in the afternoon, with two participants for each class. After dinner, we rehearsed trombone quartets and choir, or found time for individual practice. The participants played a variety of music in masterclasses. We all played orchestral excerpts and Bordogni/Rochut etudes, and some of the solo literature covered includes the Concertos by Tomasi and Grondahl, and the Sonatas by Hindemith, Ewazen, and Casterade. Bass trombonists contributed performances of the Saches Concertino and the Ewazen Ballade among others.
A highlight of the seminar was a trip to Fossano, Italy for a concert featuring a recital by Joseph Alessi, followed by performances of the quartets. The concert took place in a medieval castle, with surprisingly good acoustics. The recital portion of the concert featured the Sonatas by Hindemith and Sulek, as well as Rabe's Basta, a song by Joseph Suk and the premiere of Corollary IV by Fennelly. The final work scheduled was the treacherous Deux Dances by Defay. Alessi showed us why he has such an international reputation, as his performance earned him three encores. First, the Rimsky-Korsakov Flight of the Bumblebee, then a Puccini tenor aria that was simply one of the most beautiful things I've ever heard performed on the trombone, and then the last movement of the Defay was repeated. I would do a grave injustice to not also mention the wonderful piano work of Roberto Arosio, both on the recital, and artfully sightreading in the masterclasses.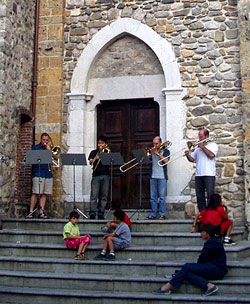 The quartets then had the daunting task of following that stellar performance. One group played the Quatuor by Dubois, another played the Mozart/Steinman Sonata Allegro from Symphony No. 13 and the Basset Quartet, while the last group played an arrangement of the Greig Funeral March followed by the Jobim/Scharnberg No More Blues.
Everyone performed in 4 masterclasses, and the performer was definitely in the "hot seat" for those 45 minutes. No detail goes by unnoticed in a session with Joseph Alessi, but whatever level you're at, and whatever the problem might be, he has a way to work on it. Everyone made great strides in their playing, and we all came away with new goals.
I would be very uncomfortable trying to speak for Mr. Alessi in an article like this. The only way for anyone to really get the true benefits of an event like this is to attend one yourself. I would suggest that everyone interested in learning more about his approach take the time to look over his web site, where you will find many helpful playing tips, as well as a calendar that will tell you when he might be doing a masterclass in your area. I will, however, add just a few comments from my notes to this article that I think can be useful to any serious trombonist who is still striving to improve.
We started and ended the seminar with a discussion of some of his general philosophies. He stressed having an overall musical approach that was not centered around the trombone alone. Know the whole piece, and your place in it at that moment. This included knowing when you have the tune in a solo work, and when it was in the accompaniment as well as knowing what chord, and what degree of it you are playing at the moment for proper tuning. Always have a vision of the sound you are striving for with a good ear for the appropriate color of the sound for the moment.
He also stressed taking responsibility for your playing. Work on technique, tuning, and rhythm so that you are a solid musician. These are the things that get players eliminated most often in auditions, and the skills that are necessary to be good ensemble players.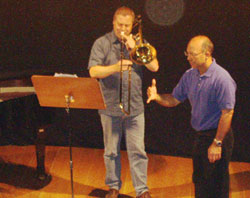 From the masterclasses, some advice included working on your intonation with a computer product called Smart Music, as well as by taping yourself, playing with piano, and by playing with a good trombone quartet. Also, listen for the difference between good harmonic and good melodic intonation. A low third might sound great in a trombone section, but might sound flat by yourself. Listen and adjust to the circumstances.
For breathing, he suggested trying to keep a relaxed approach. Trying to open your throat will often have the opposite effect, so instead try to keep it relaxed and in its natural open state. He suggested lying on the floor to observe relaxed breathing and to see where expansion occurs. Working with slow breaths will help to train your body to fill up in a relaxed way, and gradually incorporate faster breaths into your routine. You should always try to stay above half full lungs, as we become tense when we try to force out that last bit of air.
For technique, he suggested a relaxed slide arm. Balance was the key here, with not too much wrist so you can accurately get to the same place over and over again, but don't allow the wrist and arm to become stiff. A good exercise for grip on the slide involved putting a coin on either side of the slide bar and put your thumb against one and the first 2 fingers against the other, holding the coins in place while you play. With the exception of the last position or two, when your thumb might have to come away from the bar, the coins should stay in place. Great tool for getting students to stop reaching for the bell!
Other technical advice included the concept of using less tongue when the music becomes faster. Also, use less tongue in loud playing, while you should add more in soft passages. He talked about the "practice olympics." When working on a difficult passage, play it ten times in a row perfectly before going on.
Much of the discussion centered around sound and musicality. One idea was that too much mouthpiece pressure can make your sound "foggy." Also, think more sound in the low register, especially when slurring up. He got all of us to think about the level of intensity we were using in different passages, and what type of (or how much) vibrato we chose for each situation. While these were highly individual moments, the unifying concept was to get beyond the trombone, and into the music. Think about sound colors, and how to reach your audience.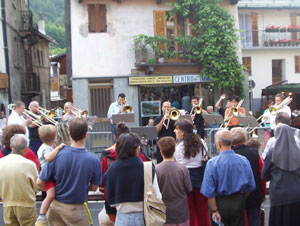 My time in Limone was all that I could have hoped for. Small problems in my playing were addressed - I found his work on breathing to be of particular help. Interpretive work on the solos was very useful. Sometimes it was just a change of breathing spots, sometimes a change in approach to a passage, but all of it made sense and opened up new ways of thinking about the piece, and music in general, for future work. Perhaps the best thing that came out of it for me was a sense of renewal and a new excitement about the trombone in general. Every day, I was able to hear great performances by great musicians, and yet no one was content with the status quo - there was always a "new mountain to climb" for each performer.
In conclusion, this was a wonderful event for me. I learned an incredible amount, saw a beautiful part of the world, and met some wonderful trombonists. I would highly recommend attending this event if it happens again. Whether you are a seasoned player looking for renewal, or if you're a young trombonist just starting a professional career, it will be a wonderful investment of your time.