Performance
My Summer With the Mouse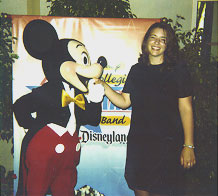 Come spring, there is probably no question more frequently asked of a college student than "What are you going to do this summer?" In the spring of 1999, I was a junior bass trombone performance major at the New England Conservatory of Music (Boston, Massachusetts) when I asked this question of myself. Many of my peers were auditioning for summer festivals like Aspen and Tanglewood. Attending such a festival would have been great for my playing but I needed to make money during the summer. I was looking to do something within the music field, but I had to be realistic. A bass trombone gig is not easy to come by. A full-time job in a non-related field was more likely to come my way.
I had given up on finding a gig playing music when I heard that Disney was holding auditions for their College Band program. At the time, all I knew about the program was that college musicians were paid to perform in groups at Disney Resorts. On a whim, auditioned and I was accepted. I had no idea how much I would benefit from the College Band program. By having been exposed to real-life situations in the music business and to those who are succeeding in it, I am a better musician. Based on the overwhelming positive experience I had, I can safely recommend the Disney College Band program to other college students interested in a stimulating and challenging summer music environment, which also pays a salary. Here is the story of "My Summer With the Mouse."
The Audition Process
Several people from the Disney College Band Program tour the United States each year auditioning players at major schools. The requirements are simple: students must be at least eighteen years of age and currently enrolled in a college or university with their freshman year completed. In 1999, there were fourteen audition stops to find performers for three of the Disney Parks - Disneyland (California), Disney World (Florida) and EuroDisney (Paris). Each band is twenty members strong, plus two dancers, and needs the standard compliment of horns that a big band would need - five saxophones (all doubles), four trumpets, and four trombones. Each of those sections has a designated solo chair. In addition, there are two tuba players and two horn/mellophone players. One of the tuba players doubles on electric bass. The rest of the rhythm section consists of a pianist who doubles on bass drum and two drummers; one plays snare and the other plays the quad-toms. As a bass trombonist there was only one spot for which I could audition.
Despite the numerous mailings about the program that Disney sent to the New England Conservatory, no advertisements were posted at my school about the College Band auditions. I found out about the audition the day before it was to occur. Again, in 2000, no one posted the information that was sent to the school. I am not sure why. Many professors approached me and said that they saw my picture on the 2000 pamphlet. I can only assume that they tossed it in the trash, and did not think that this audition was one worth taking. This article certainly proves otherwise.
When I arrived at the audition site, all I had to do was fill out an application. There was no audition fee and free is always a good thing for a college student. The two men auditioning musicians were the directors of the bands that summer. While I was auditioning, one asked me to tweak things in my performance - make this longer, that louder, etc. It seemed that not only were they testing my ability on the horn, but also my overall attitude, and ability to take direction. Approximately 1000 college musicians audition annually for the program and 20 are selected to participate at each Disney Resort. I was notified of my acceptance into the 1999 Disneyland Collegiate All-Star Band after the audition tour had been completed, approximately a month-and-a-half after my audition.
On paper, it looked like a great deal. In addition to performing in front of huge crowds on a daily basis and working with regularly-scheduled clinicians and guest artists, the band was put up in apartments, paid $340 a week and given free admission to Disneyland, "The Happiest Place on Earth". The College Band seemed to meet all the expectations I had for a summer job. I accepted the position immediately.
The Schedule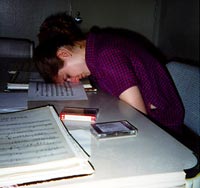 The first two weeks were spent rehearsing, memorizing, and putting choreography to the music. We rehearsed for three consecutive days and then had one day off, for two weeks. The rehearsal schedule was 9:00 AM to 5:00 PM with two breaks and an hour off for lunch. There were memorization assignments of two or three pieces every night and the following day, we would combine the music with choreography. In all, we learned the music and choreography for 20 pieces. At the end of the two weeks, we had one chance to run the choreographed sets in the park and we had only from 1AM to 5AM to do it. We called this the All-Nighter and based on our performance, our director decided that we were ready for the summer. After the All-Nighter, we had one day off and then began our nine-week run of shows.
A typical workday looked like this:
| | |
| --- | --- |
| 10:00 AM | Shuttle to the Park |
| 11:00 AM-2:00 PM | Rehearsal/Clinic |
| 3:00PM | Perform the "Sit Down Set" |
| 4:00PM | Perform the "Small World Set" |
| 5:30PM | Perform the "Castle Set" |
| 6:30PM | Perform "Retreat" |
| 7:45PM | Perform the "Pre-Parade" |
If we didn't have a rehearsal or clinic, we went on field trips, reviewed videotapes of our performances or, on one rare occasion, slept in.
Following each set, we gathered backstage where we went over what went wrong and where we lost control. After the "Pre-Parade," we changed, got our clean costumes, put them in our lockers and were shuttled back to the apartments at about 9:00 PM. This happened Tuesday through Saturday for nine weeks for a total of 44 days.
The Other Musicians
Together with the dancers, the band was made up of twenty-two people from twenty-two different schools, including one from a school in the Netherlands. All of the other musicians went to universities as opposed to a conservatory, so it was a relief to be around people who know that there is life outside of the practice room. I was worried about my lack of soloing ability but I began to feel more at ease once I arrived. I walked out of the gate at the John Wayne Airport and saw a Disney employee holding a card with my name in big, black letters, ready to whisk me away to my new apartment.
There were spots in the band that were specifically for soloists; the fourth trumpet, the lead tenor sax, and the third trombone. These players took most of the solos in our regular tunes and on the guest artist concerts. The players who filled these chairs were both technically proficient and creative. The rest of the band was also impressive. For instance, the trumpet section never ceased to amaze me. I could count on one hand the number of times that I heard the lead trumpet player make a mistake, and I never wondered whether the section was going to make high notes or play a soli correctly. The saxophone section was the first one I sat behind that played beautifully and had their doubles down cold.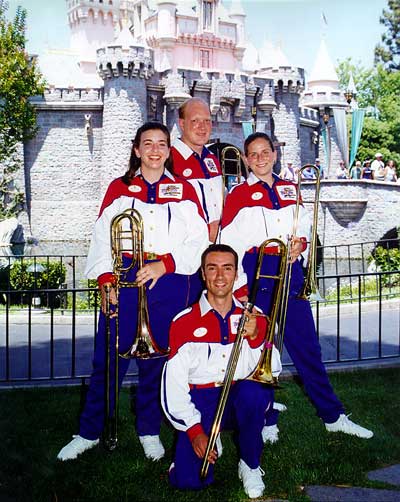 Playing in the trombone section was also a new experience for me. Not only was everyone in the section a fine player, but we also actually attempted to play as a section to the point of arguing about releases. Playing as a section was definitely more important in this band than soloing ability. Due to the diverse musical backgrounds of the band members, it goes without saying that there were varying levels of ability, but it did not matter for the kind of playing we were doing. This band gelled in a way that I have never experienced before or since. This was especially important when guest artists would come in. Since we only had a few days to get a concert ready, the already high level of sight-reading and musicianship rose.
Although the level of playing was impressive, the real love of music among the players was inspiring. I had never been in a group of that size where everyone actually cared about sounding good as a group and not just as an individual. In school, it is typically the other way around. This band got more accomplished in a shorter amount of time than any other band I have been in.
Working With Clinicians And Guest Artists
The clinicians who worked with us were helpful and caring. It was as if they were the Masters and we, the Apprentices. We had twenty clinics between two and six hours long totaling 92 hours for the entire summer. Most of the clinicians were Los Angeles-based musicians who were succeeding in the studio and freelance music scene.
We got a special treat when composer/pianist Bob Florence worked with us. I had been playing his charts for years and I couldn't believe I actually got to meet him. He was a tenderhearted man who even took a picture of the band so he would remember us. The band really enjoyed his charts.
Gregg Field is a drummer who played with the Count Basie big band when he was 17. This guy really worked us over when he came in and stated the obvious - we were not really swinging. In a matter of minutes, he explained to us how to begin to get a sense of the Basie feel. The improvement was dramatic after only an hour with him. His influence stayed with us throughout the summer as we tried to apply what he said to the rest of the music we played in the following weeks.
One of the high points in the summer for me was when trombonist Jiggs Whigham came in. Not only was he a phenomenal player, he was a great educator. His style was very laid back and he gave the band a lot of information on improvising and the European music scene. Many of us were left seriously thinking about going to Europe. Jiggs even took the trombone section out to breakfast before rehearsal. At a small restaurant before our concert with him, Jiggs told us his life story and how we could make it in this difficult business.
Rick Baptist, one of the top call trumpet players in Los Angeles, gave us our next clinic and a "no-holds-barred" look into how rewarding and difficult being a freelance musician is. Among the many fruits of his labor, he brought in the pictures of famous celebrities that he takes from the pit of the Academy Awards and autographs of Frank Sinatra and the creators of Southpark. He helped set up a trip for the entire band to sit in on a Warner Brothers recording session and took the trumpet section out to breakfast.
Percussionist Steve Houghton was probably the most critical of our band. I enjoyed his clinic because he didn't just sit there and tell us how wonderful we were just because we were in the band. Steve flat out told us that we were not grooving together and that our time wasn't very good. The charts that he brought in for us to perform were stylistically harder than those of any other clinician all summer. We got our rear ends kicked at the first rehearsal, but came back the next day prepared and ready for more. I respected him because he taught and challenged us.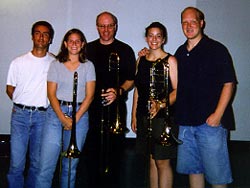 The final clinician, Alex Iles, was a real treat for me. Not only was Alex an alumnus of the band, he was also an incredible trombonist. In our clinics with Alex, he spoke about improvisation techniques and his views on what it takes to make it as a freelance musician in LA. It was disturbing to learn that no matter how good you might be, freelancing is more about whom you know and how versatile you can be. My favorite part of his concert was when he performed an entire big band chart using multiphonics, pretending that he was just a musician who had shown up a day early to a big band rehearsal. He also helped the trombone section organize a gathering at "Hoyt's Garage," the famous LA garage where Hoyt Bohannon and Tommy Pederson started a trombone choir many years ago. It was a perfect way to end our summer.
Never before had I felt that a group of professional musicians honestly cared as much about us as these clinicians. They all wanted us to do well and did everything in their power to help us in the short amount of time that we had together. Most of them brought handouts - detailing their way to successful improvisation, how to make it as a freelancer, how to teach music styles to bands, and things no one will tell you about the music business. They took pictures with us, ate lunch with us, and brought their wives, kids, and families to watch all of our other sets in the park. They gave us their home phone numbers, lessons, and even drumsticks. But the one thing I am most grateful for is their time and genuine caring. It stills seems incredible that I got paid to experience all of this.
Repertoire
Professionals arranged the music we played specifically for the band, so the parts were good. Most musicians that I go to school with would turn up their noses at the type of music we played, whether they were majoring in classical or jazz. I came from a school whose last performance was of Prokofiev's "Romeo and Juliet" to Disneyland where I played "Livin' La Vida Loca" by Ricky Martin twice a day. It was a bit of a shock, but as I quickly learned, versatility is a huge asset in the music business.
We performed our most authentic big band pieces in the "Sit Down Set." The music in this set was the only music that we read. If we had a guest artist, we would replace our normal music with whatever they had brought in for us to play. We performed the "Small World Set" in front of the attraction of the same name. "Small World" was our first choreographed set comprising of music from Disney's animated films. "The Castle Set" took place in front of Sleeping Beauty's Castle. There we played pop music and each piece featured a different section of the band. "Retreat" started at the Disneyland Train Station and worked its way down around the flagpole for flag retreat. "Pre-Parade" was a prelude to the "Mulan Parade;" a real-life re-enactment of a recent Disney animated film, "Mulan." We performed some of our favorite pieces from the other sets while moving down Main Street. Some of the styles that the band covered in any given day included swing, jump-swing, rock, Latin, ska, blues, and popular music.
As the College Band it was more important that we please the crowd than play perfectly. Part of the "show" aspect was the choreography. We danced and ran around while playing - even the tubas. I participated in a kick line with my horn on my face. I had to execute the complicated maneuvers while playing. In our "Jump Swing Medley," I actually got out in front of the band and danced, without my horn of course. The choreography was only half of the show.
The other part of the show was to look like we were having a good time and draw the audience in to make them feel like they were part of what we were doing. When our director would call off the tunes, we had a routine that we went through. For instance, when each member of the band was introduced in "The Castle Set," everyone had a gimmick. The tubas would play "Bear Necessities" from "The Jungle Book" and the band danced. A trumpet player jumped over his neighbor's shoulders when his name was called. While playing solos, one might play to specific people in the crowd. I always picked young kids because they liked the attention and the parents got a kick out of it. The attention we gave to our audience really paid off because we usually kept the same crowd for the entire half-hour set. We even had groupies who came to see us every day of our 9-week run.
Because we did this every day, the show evolved. Sometimes the changes were for the better, sometimes for the worse. Adding new twists was a way to make it through playing all the same music with the same people and not go crazy. After each set, our director decided what would go and what would stay. Any alteration had to improve the presentation of the show.
Memorable Experiences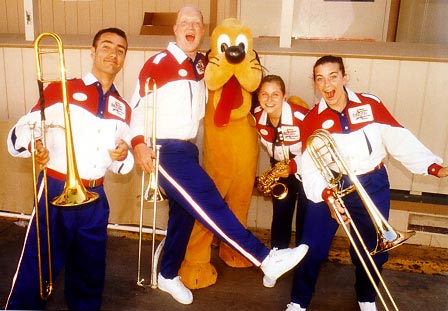 Being part of the College Band meant that we had the opportunity to do some special things. Every year, the band is professionally recorded at Capitol Records. This gave the band an opportunity to really feel what professionals go through at a session. The studio that we recorded in is the same studio where Frank Sinatra recorded his Capitol sessions. The pictures in the halls showed all the famous musicians that had been through there and I could just feel the history.
Recording our music was a completely new experience. Playing with headphones on was a challenge and our normal setup had to be changed because the drums were so loud. The drums were in a soundproof booth so we only heard them through the headphones. The saxophones were directly across from us, rather than on our right, where they had been all summer. As a result, balance was an issue. I could not hear how I fit in anymore, even within my own section. I was used to playing outside and suddenly I was expected to adjust to this completely foreign setup with one ear covered. It was a valuable lesson in what our clinicians and guest artists had been saying all summer - versatility - being able to adapt to change at the drop of a hat and not let it throw you. It was a constant struggle, especially because there was not going to be any post-recording mixing. Our efforts paid off and the recording was made into a CD. Everyone received a copy at the end of the summer as a memento.
On one of our days off, the band played the National Anthem at an Anaheim Angels baseball game, to which we got free tickets. I had never performed in a stadium of that size before and when I looked up at all those people in the stands, my emotions overcame me. I have never been so proud to play the National Anthem. To top it all off, the Angels won the game!
Rick Baptist, one of our clinicians, invited the whole band to observe a recording session that he was part of at the Warner Brothers Studios for a "Sylvester and Tweety" cartoon. The studio trombone section - Alan Kaplan, Alex Iles, Charlie Loper and Craig Ware - ate lunch with us while we bombarded them with questions. After lunch, my section stayed behind and the studio trombone section thought it would be nice if we sat in and felt what it was like to do what they do. The director of the session rehearsed the music that was being recorded with the trombones from the College Band and the professional section took pictures of us so we could show all of our friends. The director then said "Red Light!," which meant that they were going to record us! My heart rate must have shot sky high, and I could not even remember my name, let alone how to play the trombone. Despite all of this, we all played just fine, and that take went on the cartoon. We even got to keep the sheet music for the part that we played. The cartoon aired about a month later and I videotaped it. It is now something to I can brag about to my friends. It was amazing to watch the process of an actual recording session and feel the pressure of perfection that those musicians must deal with all the time. Those studio players hardly ever make a mistake! The level of consistency and, more importantly, musicianship, really opened my eyes to one of the things that separate them from amateurs.
After the recording session we met up with College Band alumnus and LA studio musician, Alex Iles. We went to the famous "Hoyt's Garage" where trombone players have been meeting for years. Tommy Pederson and Hoyt Bohannon were Los Angeles studio musicians who decided to start writing duets to challenge one another. As more trombonists began working in LA, the "Garage" became a kind of proving ground for newcomers and a compositional outlet for Pederson and Bohannon. It is a small place and I cannot imagine that it holds more than twenty trombonists. We played through octets and septets with more studio/freelance trombonists for about an hour-and-a-half. We picked music written by Pederson and Bohannon from the dusty stacks piled on every shelf. Afterwards, we hung out with the pros at a restaurant and talked more about music. It was truly a day to remember and I was very impressed with the way they opened up to us. There was a real sense of the mentor/student kind of relationship between our band and theirs. That is not something that I have had a lot of experience with and I really benefited from it. I still keep in touch with some of the people I met in that famous garage.
Reality
Yes, we fought - each section had their fights. In my section we fought over releases of notes, who was out of tune, and who was having memory lapses. It seemed that there was a power struggle between certain members of some sections. There were fights about people joking around too much and about section leaders not leading. I think a lot of the arguments between members of the band had more to do with personality conflicts than anything musical. Some members of the band had better "people skills" than others. This represented the real world, in a way, because even in Disneyland, no one is happy all of the time. For example, it was clear that some people in the program had issues with women and I had never before come into contact with that kind of attitude. Jokes were made and they sometimes crossed the line between funny and offensive. In the beginning, this attitude caused some friction in the band, but the situation improved over the summer. Eventually, all of us learned to take things in stride. I quickly realized that when you live and work with the same twenty-plus people for eleven weeks, you have to let a lot of things go to remain sane.
I thought that for the most part the choice of clinicians was excellent. There were a few rotten eggs, though, and we got a chance at the end of the summer to evaluate each of them. The clinicians who really made an impression on us were the ones who did not sit in front of us and tell us how great we were for two days. The people who came in and shared knowledge with us about the real world and how to improve our playing and musicianship will be the ones we remember for years to come. As a player who is less skilled in jazz than most of the other people in the band, even improvisation clinics held my attention.
The apartments that we stayed in were much nicer than the hole that I live in at school. It was a nice arrangement because all we had to pay for was the phone and cable television. Most of us did a lot of out-of-state calling, so we had high phone bills. As a group, we caused a bit of trouble on the weekends when we would all get together to hang out and party in someone's apartment. The security guard usually came and had to break up the party. In those cases, we would move the parties from apartment to apartment. Roommates got along fairly well considering how much time we all spent together. One huge problem was the lack of transportation. Since most of the band was not from California, cars were in short supply. We had to do some serious searching for vehicles if we wanted to go somewhere as a group. Disney would provide transportation for us if it was a scheduled activity for the band. At least there was a store within walking distance, along with the best burger place in the US, "In-N-Out Burger." Some people rented cars on occasion, but most of us just dealt by walking everywhere.
Opportunities to practice had to be sought out and only the most diligent did so on a regular basis. Our schedule could only allow for early morning and late night practice. Typically, one could not practice in the apartment at these times because someone was always sleeping. It was possible to grab one of the three recreation rooms in the apartment complex's Club House, if they weren't already being used. Disney sometimes provided us with an early shuttle to the park. A few of us brave souls would ride in and hope that all of the rehearsal space was not taken up by outside groups that had come to participate in Disney's "Magic Music Days." Of course, another option was to refrain from practicing all summer and some band members did go that route.
The memorization and choreography were not as hard as I expected they would be. The way our rehearsals were scheduled helped us achieve and retain more than I thought possible. Most difficult was putting the music and choreography together. The choreographer was careful in the first two weeks to make sure that none of the dancing would interfere with playing. Our music came first, so we had a say in what we did and did not do. Everyone had problems with coordination at first. I had only been in a marching band for a semester, but I caught on because most of the steps were more dancing than marching. One move, the "Smiley-Butt" maneuver, which consisted of outlining a smile in the air with your rear end, had much of the band stumped for days. Dancing around in polyester and heavy cotton costumes was another challenge. It was very hot in those costumes, despite the relatively mild summer. Trying to look happy, play, and run around like we were having the time of our lives was sometimes easier said than done.
Being a happy Disney employee was not always as much fun as we made it look. No matter what was going on in our lives, we were expected to go out there with a huge smile and high-fives, and to perform at 100 percent. After all, it was still a job. A dancer was injured, a trumpet player busted his lip, a drummer's leg went numb from carrying his equipment, I was sick for the last three weeks of our show. But, like the old saying goes, the show must go on, and it did. Having these things go wrong taught us a powerful lesson in adaptability.
The End
On our first night in Anaheim, the band was told that we would spend the last few weeks of our time at Disneyland anxious to leave and then the months following desperate to come back. Whoever said that hit the nail on the head. The summer went by so fast it was difficult to ponder everything that happened. At a banquet held at the end of the summer, everyone in the band received a professional video recording of our musical sets along with a copy of the CD that we recorded. We were also given a slide show of pictures that were taken of the band throughout the summer. When it was shown at the banquet, everyone at my table was crying by the end. I still cry when I watch the slide show. Faced with the task of saying goodbye, I realized I had not thought of how I was going to do it. Having spent almost every moment of my summer with that close-knit group of people, we were like a big family. Of course, there would be e-mail, phone calls, and maybe even visits in the future, but we would never have that summer back. What an amazing summer it was.
When I first heard about the Disney College Band, I thought getting paid to learn and perform every day at Disneyland sounded like a good deal for a college musician. In reality the deal was much better than it sounded. Being immersed in a pseudo-professional environment for eleven weeks taught me much more than school has about surviving as a freelance musician. I became acquainted with how things work in the real world - the good and the bad. Now, when confronted with similar situations, I know how to react. I know that I must work hard to try to establish myself as a freelancer and it may take years before I am established. I know that my playing must be much more consistent and that I must practice better musicianship. I also gained new insights about how to get along with people, work intensely with others, and resolve conflict.
In addition to gaining experience, I became a better trombone player. I was worried about what I would sound like after three months of playing in the band. I had worked hard in the previous year to try to develop a good orchestral sound and I did not know if this kind of playing would reverse the work I had done. When I returned to school in the fall of 1999, I eagerly awaited my first lesson with my teacher, Douglas Yeo of the Boston Symphony. Mr. Yeo has said,
"When Jen returned to New England Conservatory in the fall of 1999, it was clear that her summer at Disneyland had contributed to a significant improvement in her playing. Having played for several hours each day seemed to have benefited her endurance and improved her already fine sound. Her technique was improved as well. But most important, and most striking, was the 'character' of her sound. Jen returned with more of the MIND of a bass trombonist, a more solid BASS trombone concept, and more self-confidence. I detected no negatives from her being at Disneyland which I think can be attributed to her keeping a sensible head during the summer and not changing her playing radically in order to play in the big band. In short, her summer with the Mouse accomplished all I could have hoped for and set her up for a very productive senior year in college."
My purpose in writing this article is to spread the word about an amazing summer job opportunity for college students. The knowledge I gained as a member of the 1999 Disneyland College Band will stay with me throughout my career as a musician. I urge those of you who are teachers to please post the advertisements that Disney sends out and encourage your students to audition. For students who are reading this, I'd like to encourage you and your friends to take the audition. I know that any college musician, whether a classical or jazz major, can benefit immensely from a summer with Mickey Mouse.
Want more information?
How to get into the Disneyland College Band? Visit this web site: https://jobs.disneycareers.com.